Kitchen Knightmares
A downloadable Discord LARP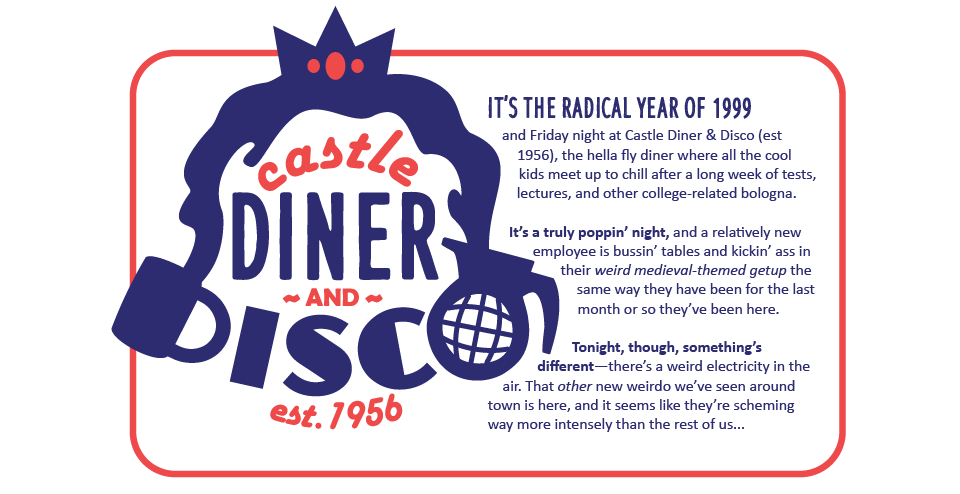 Created by Chris Bissette and Nevyn Holmes, based on This Discord Has Ghosts In It by Adam Vass and Will Jobst

Kitchen Knightmares is a discord-based LARP in the vein of hidden-role games and mysteries. Based on the ground-breaking hit from Will Jobst and Adam Vass; This Discord Has Ghosts In It, players gather on a bespoke Discord server, assign roles, and engage in some light-hearted and very chaotic roleplay as they take on the persona of their characters.
In Kitchen Knightmares, the characters in question are:
A Medieval knight sent forward in time to the wild year of 1999
The Wizard who sent them here; at the diner tonight to soak up victory
The Diners, regular 90s college kids here to have a good time and cause trouble
Kitchen Knightmares is light, chaotic, and incredibly fun for everyone who plays- because it's a fairly rules-light game it makes a fantastic first-time roleplaying experience, and because it's all on Discord and has no dice setup is quick, easy, and anyone can do it!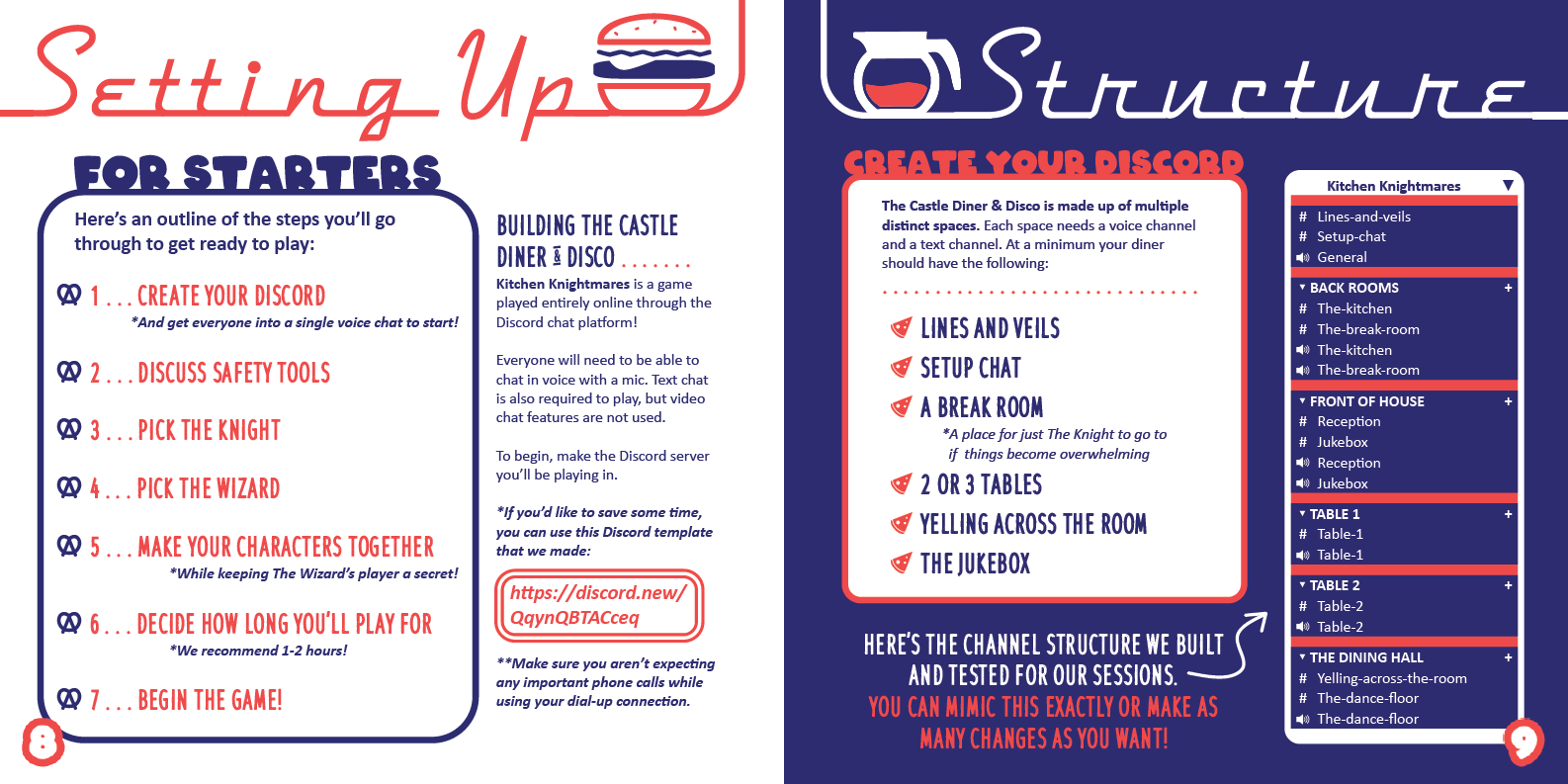 That's right! In both Kitchen Knightmares and its progenitor, This Discord Has Ghosts In It, players are all playing together in a shared discord server that's built to embody space their characters are in!
Treated as a physical space, players move around and interact with each other and their environment as if they're physically sharing that space.
Together, the rules, players, and yes- even Discord- create a wholly unique roleplaying experience that is, at the same time, simply to pick up and ridiculously fun once you get going!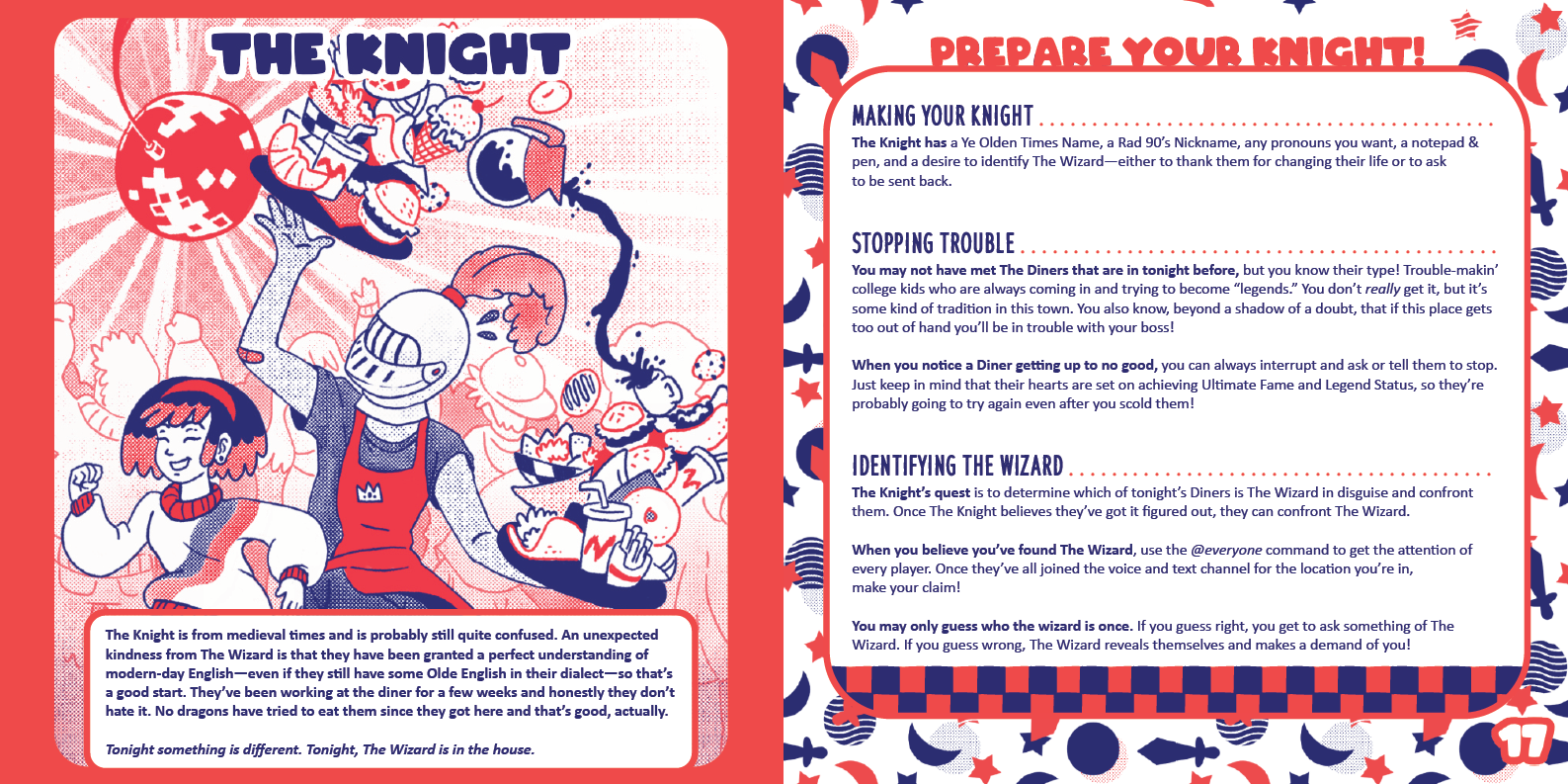 A quick, straightforward guide to creating your Diner's Discord server!
Guides for each of the 3 character types and their unique rules!
Tools to help "get into the vibe" of the diner, as well as safety tools!
A wild trip back to the 90s that'll send you reeling!
Purchase
In order to download this Discord LARP you must purchase it at or above the minimum price of $10 USD. You will get access to the following files:
Kitchen Knightmares -Spreads.pdf
9 MB
Exclusive content
Support this Discord LARP at or above a special price point to receive something exclusive.
Comunity copies
If you are enduring financial hardship, feel free to reserve a copy.

How to contribute to the pool of Community Copies:
Rating the game adds 1 Community Copy
Telling us about your game of Kitchen Knightmares in the comments adds 1 Community Copy