Stand-ins For The Apocalypse
Stand-Ins For The Apocalypse is an in-development project. Buying it gets you immediate access to current and future releases, just understand that it's an early access project and is therefore incomplete and subject to major changes.
Stand-Ins For The Apocalypse is a GM-less game for 2-5 players about being in a band and saving the world. Each player needs at least 2 six-sided die and something to write with.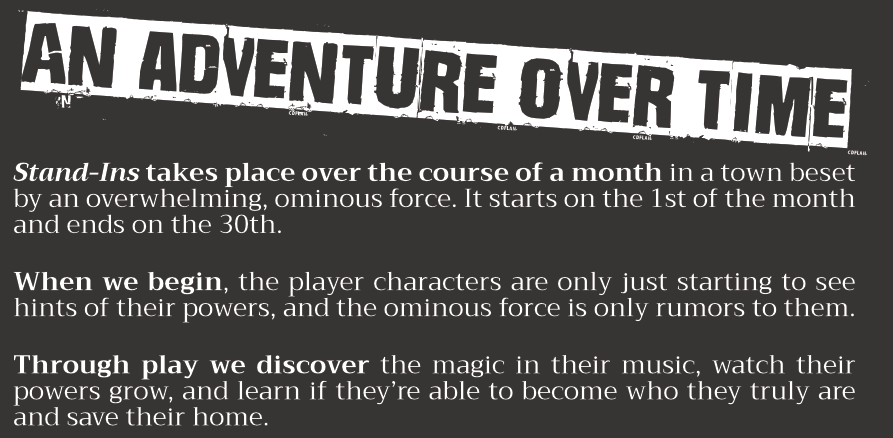 You and your friends are in a band and have been for anywhere from just a day to a few years. You haven't made it big, and odds are you're not going to, but it doesn't matter.
You gather in a garage, or an apartment, or a room at your school, and you play. You play until your emotions are transformed from what they were into what they are.
You sweat, you bleed, and you scream and sing and convert everything in life into music that permeates the halls you play in.
Something is changing in yourselves and in your town. You began to feel it a few days ago, subtle at first but creeping and seeping like some kind of disease. Shadows are darker, light is brighter, and your music feels...different. More physical.
None of you are sure what, exactly, any of this means, but you're all about to find out.
Purchase
In order to download this game you must purchase it at or above the minimum price of $5 USD. You will get access to the following files:
Stand-ins For The Apocalypse - ALPHA PAGES.pdf
3 MB
Stand-Ins For The Apocalypse - ALPHA SPREADS.pdf
3 MB