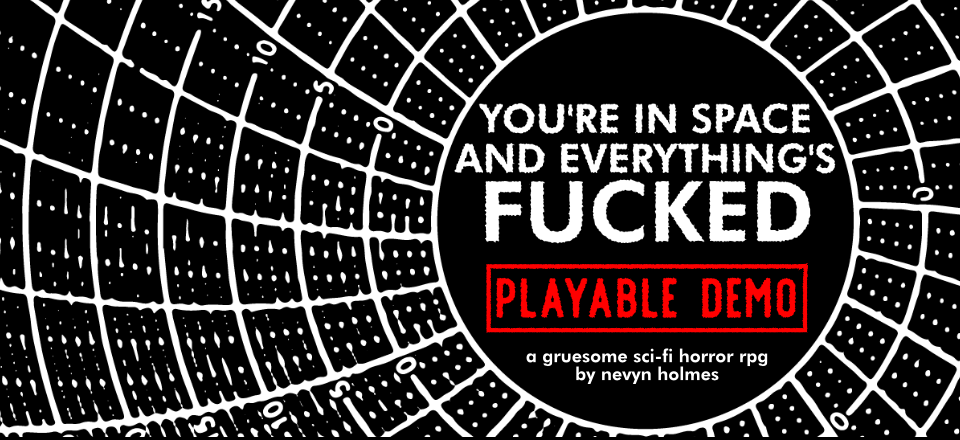 [DEMO] You're In Space And Everything's Fucked


You're in Space and Everything's Fucked is a love letter to sci-fi cosmic horror and gore-filled splatter films.
This version of the game is for 2 players, with one taking on the role of an isolated, hostile space station while the other embodies a survivor, emergency aid, or some other unlucky fucker who's probably going to die horribly. If the crowdfunding campaign succeeds, we'll be creating rules & guidance for more players!
You're In Space And Everything's Fucked emulates the trappings of isolation space horror video games through the lens of a tabletop role-playing game and is inspired by similarly fucked-up situations found in the Dead Space, System Shock, and Alien franchises.

THIS IS A DEMO
This is an incomplete sampling of the final text of the game, which will be crowdfunding to fund a full print run & final release starting on March 7, 2023.
If you like what you see, and want to help ensure an indie game company's continued work (not to mention a really kick-ass release for this game), sign up for our newsletter to get notified when it's live!
The roles:
The Station takes on the role of monsters and setting; generating both as the Struggler explores. They take a bird's-eye-view of the story and throw obstacles and objectives at the Struggler.

The Struggler fills the boots of the hapless sap that ended up in this situation. They scavenge, sneak, and generally work to survive by any means necessary in the face of horrifying creatures and untrustworthy NPCs.

In this demo:
While this doesn't have everything the final release will have, it contains more than enough for you to run either a detailed one-shot or a simple multi-session adventure. In this version, you'll find:
The main core mechanics & resolution system
Character creation
A simplified map generation system, including a selection of unique Setpieces
Details on Objectives, Items, and threats
A selection of Monsters generated using the final version's rules
A handful of generated Boss Monsters
In the final version:
Once the Kickstarter funds, we'll be releasing the full game in digital and moving on to a print run. In addition to everything listed above, the final release will include:
2 books, one for the Station and one for the Struggler

Expanded sections for everything in the game
At-the-table guidance and design commentary
More threats, including a complete system for generating Monsters and Boss Monsters
Sci-fi death tables
Complete random map generation, including more setpieces
More visceral art and amazing layout
Guidance for playing with more than 2 people
Much, much more!

To play, you need:
At least 5 six-sided dice (d6)
Paper and writing utensils (or a digital facsimile)
Two players
Download
Click download now to get access to the following files:
[DEMO] You're In Space And Everything's Fucked.pdf
3 MB