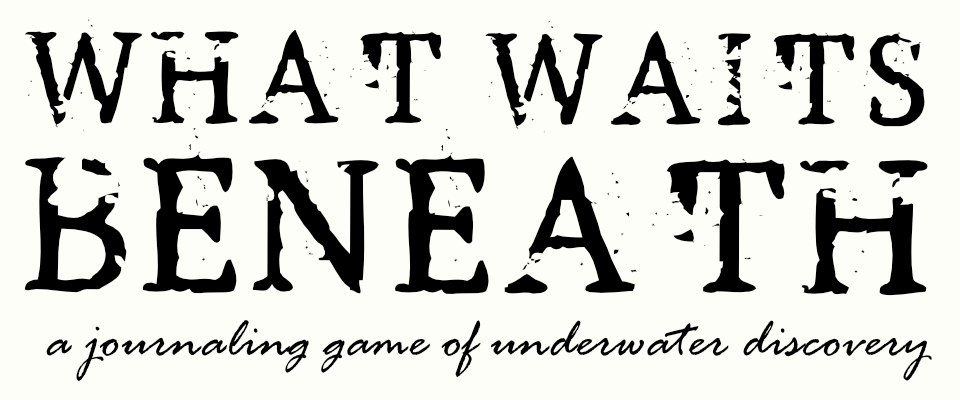 What Waits Beneath
What Waits Beneath: Redux
---
We're releasing a new version of What Waits Beneath,
with layout totally redesigned from the ground up by Julie-Anne Munoz!
What Waits Beneath is one of the first games I ever designed wholly on my own from the ground up (though inspired heavily by some work that Gayhalforc is doing). It's a wonderful solo journaling game that puts you in the diving gear of a seafaring adventurer searching the hidden and ancient depths of their world.
It's a project that, frankly, I'm proud of from a game design standpoint but have never been entirely in love with from a visuals one. Being one of the first projects I did layout for myself, there's simply a lot going on that detracts from the overall game.
But, now, Jam has stepped in and created something truly wonderful and unique that brings out the real heart & soul of WWB!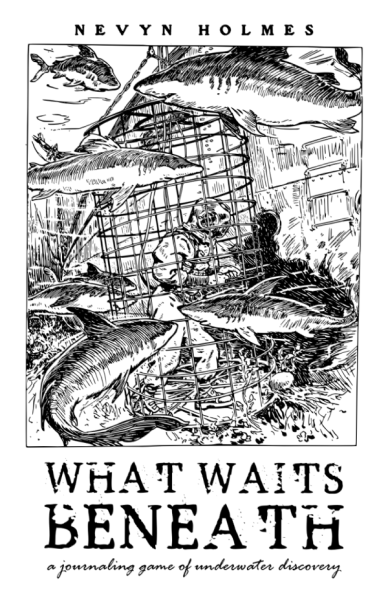 So, what's release gonna look like?
Well, for starters, we're going to be producing a unique, hand-produced stitch-bound zine completely in-house. To be transparent, this is something we're aiming to do moving forward for future releases; we have the process down for What Waits Beneath and it's going to allow us to create some really striking projects, this one included!
For those less familiar with production, the "standard" of the indie space usually involves digital only, print-on-demand, or print-it-yourself styles. The fact is, it comes down to cost for pretty much everyone! Producing a physical version can be heavy on the wallet, especially when you don't have the tools at home to do it yourself and even moreso when there's no guarantee people will buy it.
To that end, we're making this new version of What Waits Beneath something so striking you can't help but want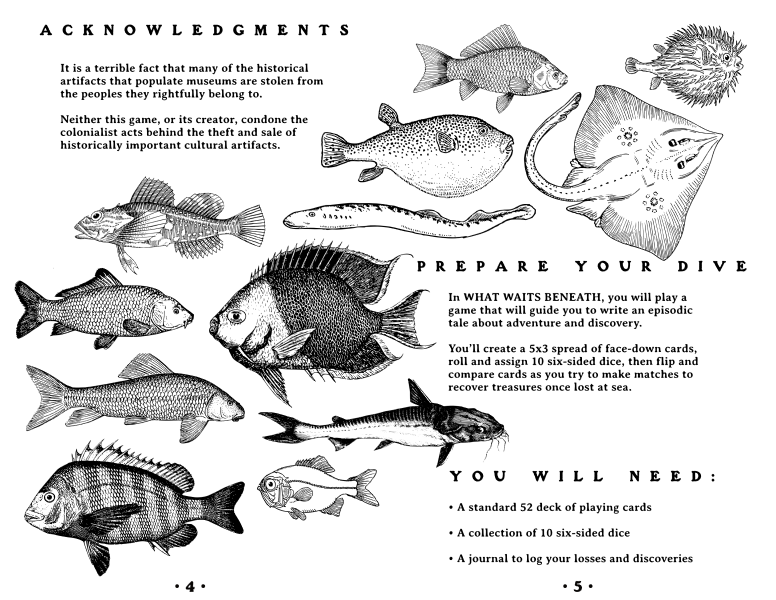 Release will work as follows:
1. We'll open up orders for Physical versions; it's a hand-made stitchbound zine. For a time, early-bird physical preorders also come with digital access when it releases!
2. After about a month, all of the digital assets should be ready to go, and the digital version will release! Anyone who snagged a Digital version via preorder will automatically get access via Itch, or have their key emailed to them!
We're opening orders for Physical first so that we have time to actually make them and get them mailed out. It's a whole new process, so we want to make sure we do it right! If you only want Digital, I totally understand! Those versions will be available a month after Physical orders go live, so make sure to follow me here to know when it's out!

I took some time to talk with Jam about her work on this project, and I think you'll find her answers very interesting!
Doing a whole fresh layout is a big undertaking- what sparked the approach for this project?
I'm quite new to the realm of indie TTRPGs. At the time I was looking for a small project to practice on and I thought there was potential for What Waits Beneath. The initial game was made for #SwimmingJam and it was full of mistakes because it was hastily put together. However, I still really enjoyed the mechanics of the game. I thought it could be a fun exercise to elevate the project, to overhaul the text and reimagine the aesthetics.
What were some of the main aesthetic inspirations for the new version of What Waits Beneath?
The films Life Aquatic and 20,000 Leagues Under The Sea were huge points of inspiration. I was also inspired by every aquarium I've visited in my lifetime, I'm fascinated by underwater creatures of all shapes and sizes!
What's your favorite part of your layout in the rebirth?
It's hard to pick because I spent a lot of time trying to give every single page a coherent sense of wonder. I am in love with the tables I designed. Working on them has inspired me to consider creating more journaling games in different settings in the future.
What's involved with producing the physical products by hand?
Initially, a lot of awkward prototypes to give away to friends. For What Waits Beneath I print the covers and internal pages in separate batches. The paper materials are different and I'm only running off one printer. After I create fat stacks of covers and pages I pierce into them using an awl and a jig. Lastly, using waxed thread and a needle I hand stitch each booklet.
Can you give a piece of advice to those interested in home production of physical copies?
Take the time you need to figure out what works for you. If you find it intimidating, take baby steps and start experimenting with smaller projects first. You don't actually need to invest in a bunch of new equipment, there are a lot of alternatives out there. There are paper folding techniques that don't require any binding. If a bulky saddle stapler seems awkward, consider learning how to saddle stitch with thread.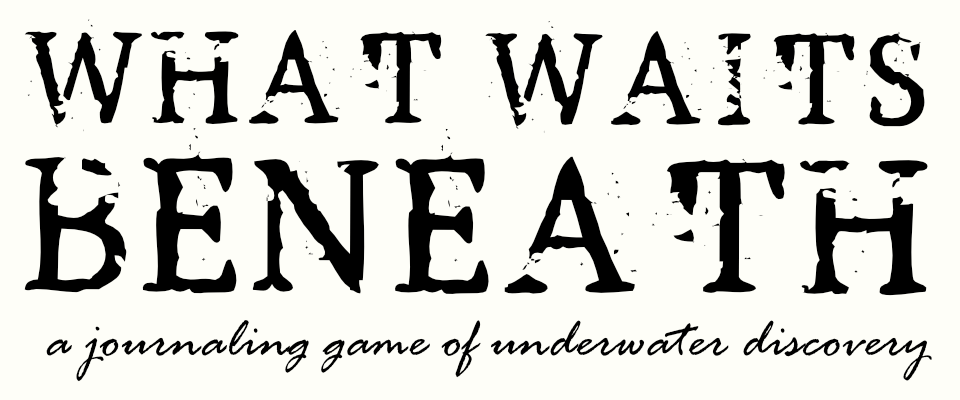 Physical copies are currently available for preorder at dinoberryjam.com